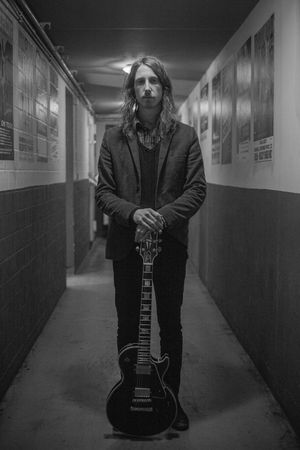 Mike Sullivan - Guitar - 2004 - Present

Michael Sullivan is the guitarist for Chicago instrumental trio Russian Circles. Created in the wake of the demise of his beloved Midwest math-rock ensemble Dakota Dakota, Russian Circles immediately gained attention for their dynamic compositions, wide tonal palette, elaborate finger-tapped riffs, dexterous live guitar loops, and sheer sonic force. Their debut album Enter (2006) developed a strong enough cult following that they were handpicked by bands like Tool, Clutch, and High On Fire for opening slots on their tours. Subsequent albums Station (2008) and Geneva (2009) boosted the band's popularity both at home and in Europe. Based on their growing fanbase, Russian Circles landed slots at prestigious festivals like Bonnaroo, Fun Fun Fun Fest, and Roadburn. Throughout the band's steady rise, Mike Sullivan's imaginative guitar lines, pedalboard savvy, and compositional expertise was the guiding force of the instrumental group. Not surprisingly, outlets like Premier Guitar, Guitar World, Total Guitar and Guitar Player all quizzed Sullivan on his set-up, technique, and creative process. 
 
The new decade has seen even greater success for Russian Circles. Their three most recent albums Empros (2011), Memorial (2013), and Guidance (2016) have not only cemented the band's status as the preeminent post-metal act in the U.S. and Europe, but have helped expand that fanbase in markets throughout Asia and Australia. The band has had the chance to play prestigious stages Radio City Music Hall and Millennium Park in Chicago. Furthermore, headlining sets at esteemed underground rock festivals like Belgium's Dunk!, London's Desertfest, UK's ArcTangent, and Orange County's Psychofest have bolstered the band's reputation as an international institution in the realms of forward-thinking rock music. Even mainstream outlets have latched on to Sullivan's dramatic guitar work. The Empros track "Mladek" was picked up by NBC Sports for their Spring '14 campaign and was so popular that the network commissioned Sullivan and the band to create original music for future seasons. Sullivan's reinterpretation of the network's trademark three-note chime has been used in their advertisements ever since. Sullivan also lent his guitar skills to the 2015 breakthrough album Abyss by American Gothic-noir songwriter Chelsea Wolfe. 
 
NBC Sports - Music by Russian Circles
Mike Sullivan: How I Create Live Loops
"Harper Lewis" for Premier Guitar's Riff Rundown
Premier Guitar Mike's Rig Rundown