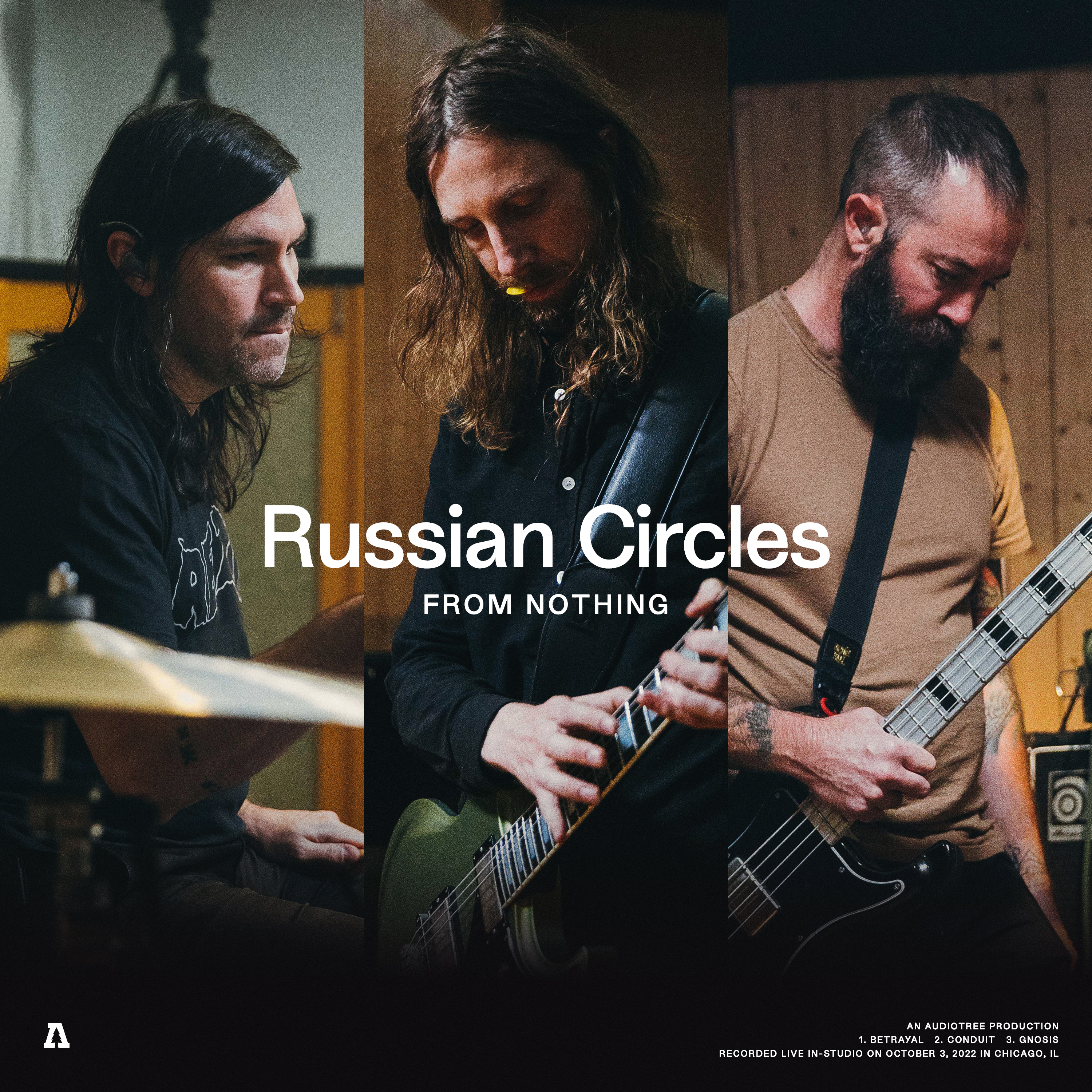 From the moment they stepped out of their multiple Uhauls, fresh off a half-completed US tour, it was clear how seasoned the men in Russian Circles were to the rigorous load-in load-out process. It was still warm in Chicago, despite it being October. Maybe it was the weather, or maybe the fact they weren't loading into a venue, but the cheerful nature of this band was palpable. It felt odd, in a way, to hear a band that is known for being instrumental, be so vocal. Their guitarist, Mike Sullivan, was quick to share tour stories, talk about gear, and crack jokes that invigorated his band and the room. The humans behind this loud, heavy, powerful music turned out to be (in many ways) total goofballs.
During soundcheck, the amplification literally shook the studio. It's difficult to translate how loud this band actually is without standing directly in the room. What was most impressive was their precision without the use of a click-track—a common tactic for louder bands—how clear it was that this band were masterful at listening to themselves and each other simultaneously. One breathing unit in harmony with itself.
To be this seasoned, have nearly 20 years in the game, and still be able to push the bar with this repetitive loud rock music is a feat. There's a lot of derivative that has stemmed from this band's sound, and a lot of new sounds that have been inspired by it. Russian Circles continues to be the force to be reckoned with in post-metal, and demonstrates exactly what it takes to stay in and be the absolute best band they can be.
Check out Russian Circles on Audiotree From Nothing!

 

 

 

 

RUSSIAN CIRCLES & CULT OF LUNA 

CO-HEADLINE TOUR 2023 

+ Svalbard supporting 

 

March 17 Copenhagen, DK - Store Vega 

March 18 Berlin, DE - Huxleys (SOLD-OUT)

March 19 Wiesbaden, DE - Schlachthof 

March 20 Utrecht, NL - Tivoli Ronda 

March 21 Brussels, BE - AB (SOLD-OUT)

March 22 Paris, FR - Olympia 

March 23 Stuttgart, DE - Wizemann 

March 24 Lausanne, CH - Les Docks 

March 25 Ljubljana, SI - Kino Siska 

March 27 Vienna, AT - Arena 

March 28 Munich, DE - Muffathalle 

March 29 Prague, CZ - Roxy 

March 30 Krakow, PL - Studio

March 31 Warsaw, PL - Progresja 

 

UK SHOWS

w/ WIEGEDOOD:

August 14 London, UK - Heaven

August 15 Newcastle, UK - University

August 16 Manchester, UK - Band On The Wall

August 17 Bristol, UK - Arctangent festival

 

EU FESTIVALS 2023: 
August 3 Poolbar festival Feldkirch (AT)

August 5 Krach Am Bach festival - Beelen (DE) 
August 9 Brutal Assault - Jaromer (CZ) 

August 13 Alcatraz Festival - Kortrijk (BE) 
August 19 Motocultor Festival 2023 - Carhaix-Plouguer (FR)

Tickets: russiancircles.com